850L-Crawler Dozer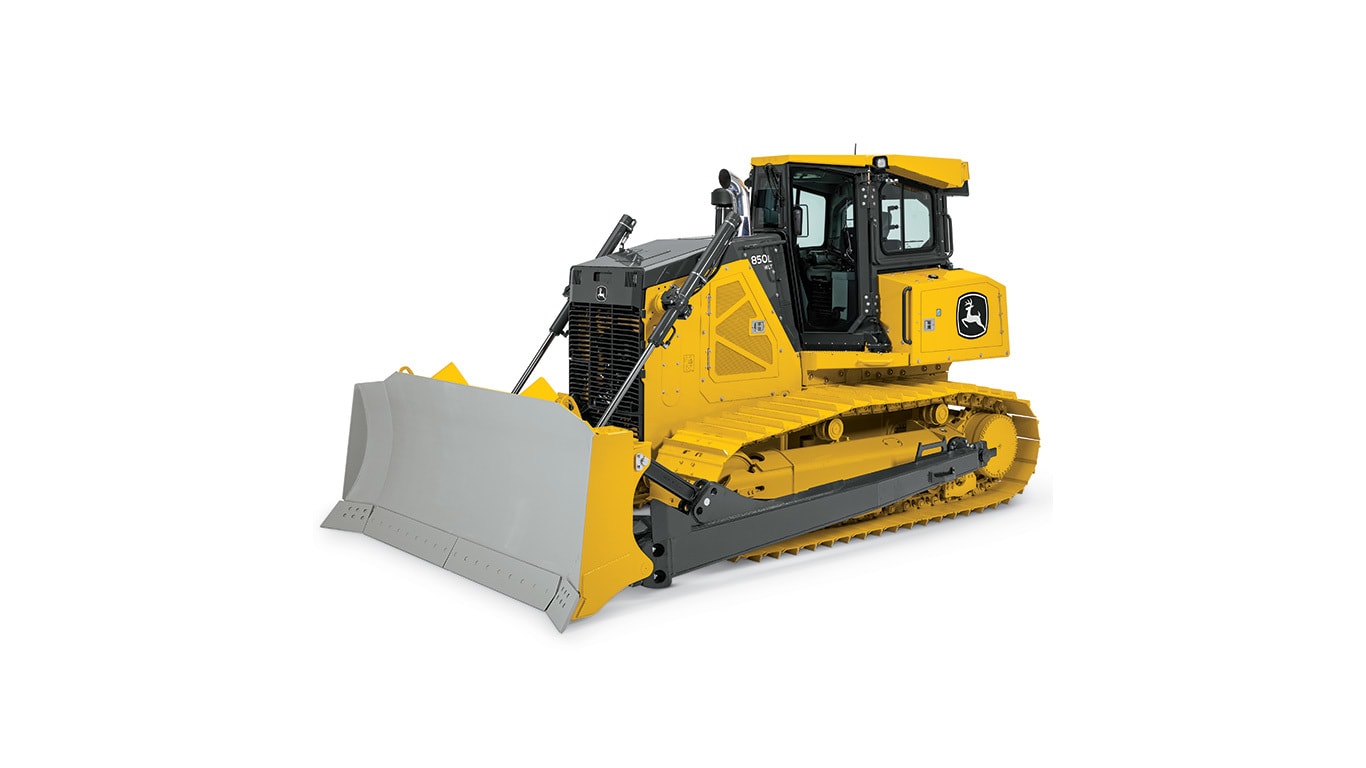 Net Power: 168 kW (225 hp) at 1,700 rpm
Operating Weight: 21 581–23 299 kg (47,578–51,365 lb.)
Track on Ground: 3300 mm (130 in.)
Download Product Brochure
Features
Engine
This EPA Final Tier 4 (FT4)/EU Stage IV-certified engine delivers a winning combination of performance, fluid efficiency, and reliability.
Grade-Control Ready
SmartGrade™, John Deere's mastless machine-control solution, is fully integrated, easy to set up and run, and available from the factory.
With standard electrohydraulic (EH) controls and an "open-architecture" design, the 850L makes it easy to add the grade-control system of your choice, whether it's Topcon, Leica, or Trimble.
Cab and Controls
An angled seat allows for a clear view to the ripper.
Ergonomic joysticks, ample storage, and an automatic temperature control option also provides daylong comfort and convenience.
Blade
At 172 inches, the Power-Angle-Tilt (PAT) blade is the widest in its class — helping to increase productivity, especially when grading.
Outside dozer (OSD) blade is available in extra-long-track (XLT), wide-long-track (WLT), and low-ground-pressure (LGP) track configurations.
Three-position adjustable mechanical-angle blade lets you put this dozer to work in a variety of unique applications including backfilling, rough grading, and general earthmoving.
Simple Maintenance
Enlarged service doors provide quick access to conveniently located checkpoints and filters.
Extended service intervals help minimize maintenance and expense.
Standard hydraulic reversing fan automatically back-blows the cooler cores at preset intervals. Or simply press a button when conditions demand more frequent cleaning.
Specifications
Engine Manufacturer : John Deere
Engine Model: PowerTech PSS 6090
Displacement, ltr (Inches³): 9 (549)
Rated Speed, rpm: 1700
Engine Output - Net, kW (hp): 168 (225)
Transmission Type: Hydrostatic
Speeds Mode 1 - Forward: 1
Speeds Mode 1 - Reverse: 1
Final Drive: Direct Drive - Double Reduction
Track Rollers: 8
Shoe - Pitch, mm (inches): 203 (8)
Shoe - Type: Single Grouser - Moderate Service
Ground Contact Area, cm² (Inches²): 65811 (10200)
Number Of Shoes: 45
Oscillation: Yes
Height - Max, mm (ft/in): 3344 (11 ft )
Ground Clearance, mm (inches): 394 (15.5)
Track Length - On Ground, mm (ft/in): 3300 (10 ft 10 in)
Length - PAT Blade Straight, mm (ft/in): 5727 (18 ft 9 in)
Track Gauge, mm (ft/in): 2438 (8 ft )
Blade - Width, mm (ft/in): 4267 (14 ft )
Blade - Dig Depth, mm (inches): 704 (28)
Blade - Tilt, mm (ft/in): 541 (1 ft 9 in)
Fuel Tank, ltr (gallons (US)): 439 (116)
Hydraulic Tank, ltr (gallons (US)): 117 (30.9)
Blade - Capacity, m³ (yd³): 4.5 (5.9)
Speed - Forward Maximum, kph (mph): 11 (6.8)
Speed - Reverse Maximum, kph (mph): 11 (6.8)
Ground Bearing Pressure, kPa (PSI): 34.4 (5)
Implement Pump - Type: Piston
Implement Pump - Flow, lt/min (gallons (US) / min): 155 (41)
Implement Pump - Pressure, bar (PSI): 18.96 (275)
Operating Weight, kg (lbs): 23275 (51313)
DRIVELINE
Engine Manufacturer : John Deere
Engine Model: PowerTech PSS 6090
Displacement, ltr (Inches³): 9 (549)
Rated Speed, rpm: 1700
Engine Output - Net, kW (hp): 168 (225)
Transmission Type: Hydrostatic
Speeds Mode 1 - Forward: 1
Speeds Mode 1 - Reverse: 1
Final Drive: Direct Drive - Double Reduction
Track Rollers: 8
Shoe - Pitch, mm (inches): 203 (8)
Shoe - Type: Single Grouser - Moderate Service
Ground Contact Area, cm² (Inches²): 65811 (10200)
Number Of Shoes: 45
Oscillation: Yes
DIMENSIONS
Height - Max, mm (ft/in): 3344 (11 ft )
Ground Clearance, mm (inches): 394 (15.5)
Track Length - On Ground, mm (ft/in): 3300 (10 ft 10 in)
Length - PAT Blade Straight, mm (ft/in): 5727 (18 ft 9 in)
Track Gauge, mm (ft/in): 2438 (8 ft )
Blade - Width, mm (ft/in): 4267 (14 ft )
Blade - Dig Depth, mm (inches): 704 (28)
Blade - Tilt, mm (ft/in): 541 (1 ft 9 in)
CAPACITIES
Fuel Tank, ltr (gallons (US)): 439 (116)
Hydraulic Tank, ltr (gallons (US)): 117 (30.9)
Blade - Capacity, m³ (yd³): 4.5 (5.9)
PERFORMANCE
Speed - Forward Maximum, kph (mph): 11 (6.8)
Speed - Reverse Maximum, kph (mph): 11 (6.8)
Ground Bearing Pressure, kPa (PSI): 34.4 (5)
Implement Pump - Type: Piston
Implement Pump - Flow, lt/min (gallons (US) / min): 155 (41)
Implement Pump - Pressure, bar (PSI): 18.96 (275)
WEIGHTS
Operating Weight, kg (lbs): 23275 (51313)