1050K-Crawler Dozer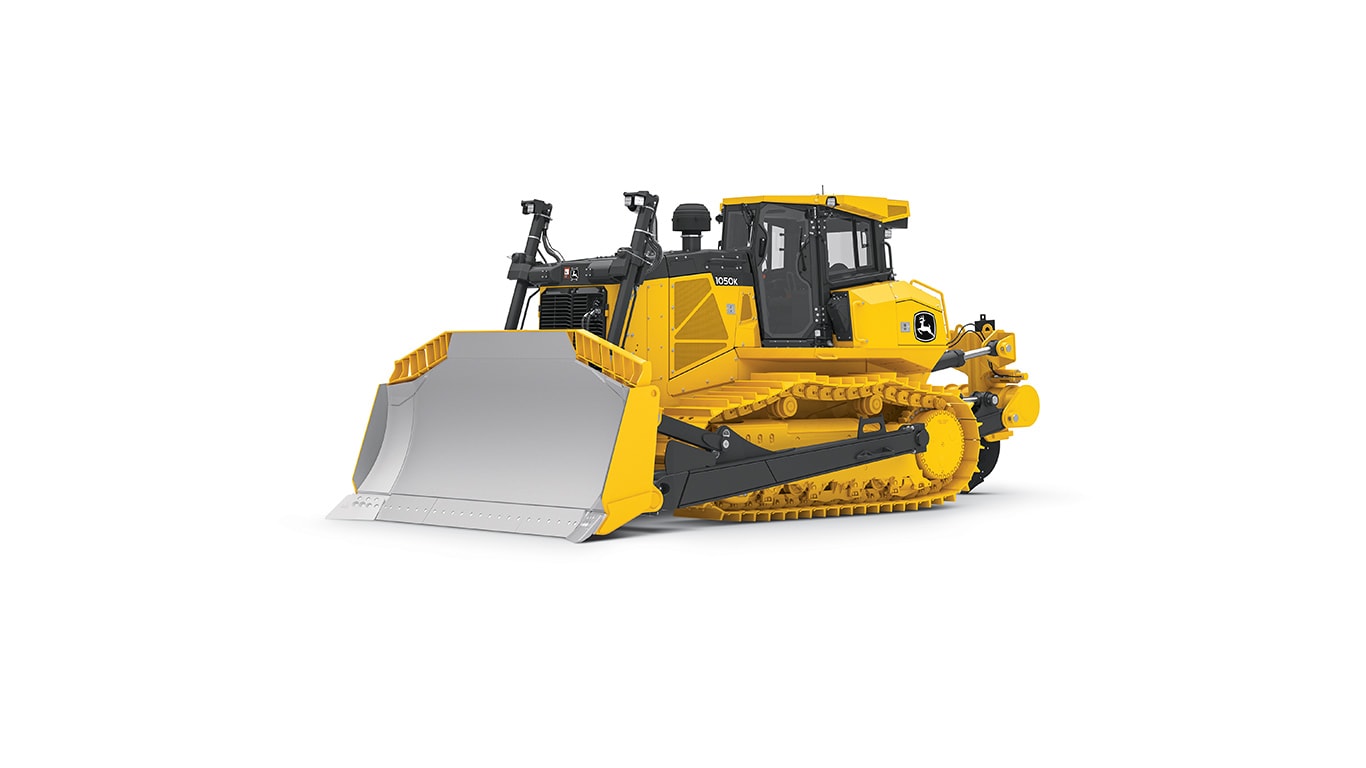 Net Power: 261 kW (350 hp) at 1,800 rpm
Operating Weight: 43 270–43 590 kg (95,400–96,100 lb.)
Track on Ground: 3419 mm (134.6 in.)
Download Product Brochure
Features
Engine
A slow-running EPA Final Tier 4 (FT4)/EU Stage IV diesel engine delivers proven performance in mining, quarrying, roadbuilding, and other large-scale applications.
Standard Eco mode maximizes fuel economy without loss of performance, automatically adjusting engine rpm and transmission settings based on load to burn up to 15-percent less fuel depending on application.
Hydrostatic Transmission
Dual-path hydrostatic transmission allows you to push a full load through turns without losing material, unlike torque-converter transmissions on many competitor machines.
Independent track control speeds up or slows each side — for smooth, full-power turns.
Rip hard ground fast with hydrostatic transmission's automatic adjustments of speed and torque.
Undercarriage
New suspended double-bogie undercarriage is designed to reduce peak vibrations in the operator station by up to 75 percent, minimizing breakdowns and wear caused by harsh impacts in rocky environments and boosting productivity
Both Extended Life and Heavy-Duty undercarriages with sealed and lubricated track (SALT) have a no-nonsense oval-track design with only one wear-causing forward-travel flex point, for longer life. One-piece welded mainframe resists torsional stress, absorbs shock loads, and delivers maximum strength while allowing handy service access to major components.
Cab and Controls
Low-effort controls command blade curvature and the full-featured hydrostatic drivetrain, delivering predictable response at all times and virtually eliminating jerky or abrupt movements.
Ergonomically correct joystick provides intuitive, low-effort control of steering, direction, and ground speed. Detented so it doesn't require an operator's constant touch or attention, it employs a thumb-actuated travel-speed-control switch.
Total Machine Control (TMC) monitor lets an operator select decelerator mode and response, forward/reverse ground-speed ranges, steering modulation, F-N-R shift rate, and forward/reverse speed ratios, for superb control.
Simple Maintenance
Large hinged doors provide access to dipsticks, fill tubes, maintenance-free batteries, and vertical filters. Convenient service points make quick work of the daily routine. Operator stations tilts a full 70 degrees in only minutes, for wide-open drivetrain-component access.
Available Configurations
A stockpiling package with large 32-cubic-yard coal blade is available for coal-stockpiling applications. If taking out trash is on the agenda, a purpose-built waste-handler package with choice of multiple blade options is available. Additional seals and guarding, a high-debris radiator, and a deluxe 10 LED worklight package that can help boost productivity at all hours are some of the heavy-duty features of both stockpiling and waste-handler packages.
Grade-Control Ready
Thanks to electrohydraulic controls, the 1050K Dozer is grade-control ready, making adding a system as easy as plugging in the components, calibrating, and going to work, whether you prefer Leica, Trimble, or Topcon.
Specifications
Engine Manufacturer : John Deere
Engine Model: PowerTech PSS 6135
Displacement, ltr (Inches³): 13.5 (824)
Rated Speed, rpm: 1800
Engine Output - Net, kW (hp): 261 (350)
Transmission Type: Hydrostatic
Speeds Mode 1 - Forward: 1
Speeds Mode 1 - Reverse: 1
Final Drive: Planetary
Track Rollers: 8
Shoe - Pitch, mm (inches): 215.9 (8.5)
Shoe - Type: Single Grouser - Extreme Service
Ground Contact Area, cm² (Inches²): 41684 (6462)
Number Of Shoes: 46
Oscillation: Yes
Height - Max, mm (ft/in): 3476 (11 ft 5 in)
Ground Clearance, mm (inches): 537 (21)
Track Length - On Ground, mm (ft/in): 3419 (11 ft 2 in)
Track Gauge, mm (ft/in): 2184.4 (7 ft 2 in)
Blade - Width, mm (ft/in): 3964 (13 ft )
Blade - Dig Depth, mm (inches): 707 (28)
Blade - Tilt, mm (ft/in): 900 (2 ft 11 in)
Steering - Differential: No
Fuel Tank, ltr (gallons (US)): 681 (180)
Hydraulic Tank, ltr (gallons (US)): 87 (23)
Blade - Capacity, m³ (yd³): 9.5 (12.4)
Speed - Forward Maximum, kph (mph): 11 (6.8)
Speed - Reverse Maximum, kph (mph): 11 (6.8)
Ground Bearing Pressure, kPa (PSI): 101 (14.6)
Implement Pump - Type: Variable Displacement Piston
Implement Pump - Flow, lt/min (gallons (US) / min): 290 (77)
Implement Pump - Pressure, bar (PSI): 249.93 (3625)
Operating Weight, kg (lbs): 42800 (94300)
DRIVELINE
Engine Manufacturer : John Deere
Engine Model: PowerTech PSS 6135
Displacement, ltr (Inches³): 13.5 (824)
Rated Speed, rpm: 1800
Engine Output - Net, kW (hp): 261 (350)
Transmission Type: Hydrostatic
Speeds Mode 1 - Forward: 1
Speeds Mode 1 - Reverse: 1
Final Drive: Planetary
Track Rollers: 8
Shoe - Pitch, mm (inches): 215.9 (8.5)
Shoe - Type: Single Grouser - Extreme Service
Ground Contact Area, cm² (Inches²): 41684 (6462)
Number Of Shoes: 46
Oscillation: Yes
DIMENSIONS
Height - Max, mm (ft/in): 3476 (11 ft 5 in)
Ground Clearance, mm (inches): 537 (21)
Track Length - On Ground, mm (ft/in): 3419 (11 ft 2 in)
Track Gauge, mm (ft/in): 2184.4 (7 ft 2 in)
Blade - Width, mm (ft/in): 3964 (13 ft )
Blade - Dig Depth, mm (inches): 707 (28)
Blade - Tilt, mm (ft/in): 900 (2 ft 11 in)
Steering - Differential: No
CAPACITIES
Fuel Tank, ltr (gallons (US)): 681 (180)
Hydraulic Tank, ltr (gallons (US)): 87 (23)
Blade - Capacity, m³ (yd³): 9.5 (12.4)
PERFORMANCE
Speed - Forward Maximum, kph (mph): 11 (6.8)
Speed - Reverse Maximum, kph (mph): 11 (6.8)
Ground Bearing Pressure, kPa (PSI): 101 (14.6)
Implement Pump - Type: Variable Displacement Piston
Implement Pump - Flow, lt/min (gallons (US) / min): 290 (77)
Implement Pump - Pressure, bar (PSI): 249.93 (3625)
WEIGHTS
Operating Weight, kg (lbs): 42800 (94300)