772G/GP-Motor Grader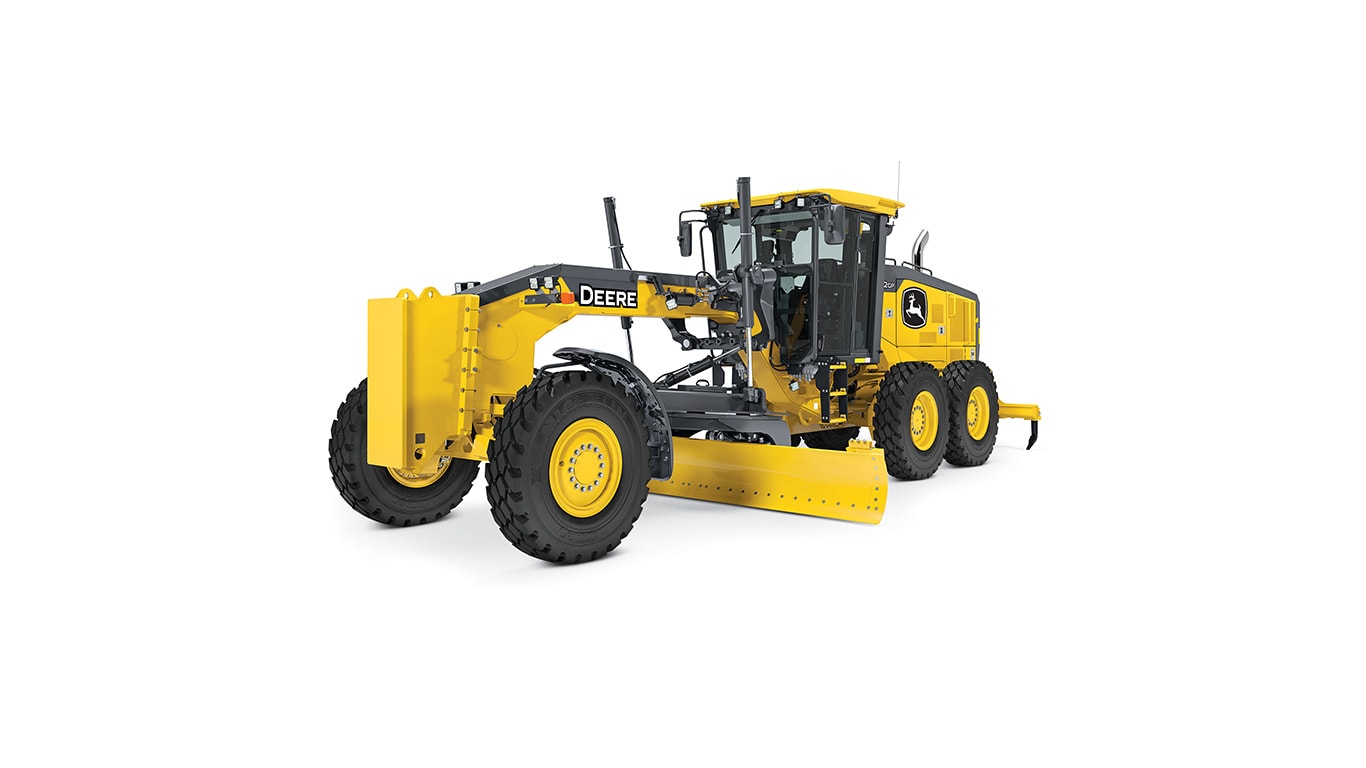 Net Power: 205 kW (275 hp)
Operating Weight: 20 500 kg (45,195 lb.)
Blade Pull: 22 453 kg (49,500 lb.)
Net Torque Rise: 50%
Download Product Brochure
Features
Exclusive Automation
New John Deere automation features designed to move you ahead in a big way include Machine-Damage Avoidance, Machine Presets, Auto-Articulation, Auto-Gain for Cross Slope, and Auto-Pass (available on Grade Pro [GP] models).
Auto-Shift PLUS simplifies operation of both GP and G-Series models by eliminating shifting, for machine control without the inching pedal.
Industry-First SmartGrade™ Configurations
John Deere SmartGrade Motor Graders are fully integrated and calibrated from the factory, arriving at your jobsite ready to work.
Integration into the SmartGrade cabin and structures helps shield key grade-control components such as wire harnesses and sensors from damage and theft.
Controls
Eight arm-rest-mounted, fingertip-actuated controls on Grade Pro (GP) models are arranged in the industry-standard pattern on each side of the standard steering wheel.
Optional dual-joystick controls on GP models require significantly less wrist motion to articulate the motor grader than competitive joystick controls.
Our G-Series models offer conventional lever-operated controls.
Engine
When engaged, Eco mode reduces engine rpm in gears 1–5, optimizing fuel usage and decreasing operating costs by up to 10 percent.
Auto shutdown turns off the engine after an operator-determined period of time. Saves fuel and reduces wear on engine, transmission, and hydraulic components.
Productivity
Featuring a fully sealed bearing and pinion that run smoother and quieter, the industry-leading design of the optional premium circle reduces operating costs while delivering 40-percent more torque and 15-percent more speed than a traditional circle. Contractors no longer have to compensate for wear in the circle, improving accuracy when using a grade-control system — especially impactful when coupled with the innovative John Deere SmartGrade™ system. And greasing intervals of only four zerks every 500 hours make the premium circle essentially maintenance free.
Horsepower and torque are optimized for each gear to maximize performance no matter your application.
Equip six-wheel drive models with Precision mode for maximum productivity in all soil conditions. Six-wheel drive is adjustable on the fly.
Six-Wheel-Drive Configuration
The job-proven dual-path hydrostatic drive boosts productivity in all kinds of conditions by putting the machine's entire weight and all six tires to work.
Specifications
Engine Manufacturer : John Deere
Engine Model: PowerTech PSS 9.0L
Number Of Cylinders: 6
Displacement, ltr (Inches³): 9 (548)
Engine Output - Net, kW (hp): 205 (275)
Peak Engine Torque, Nm (lbf / ft): 1379 (1029)
Torque Rise, %: 50
Net Power - Gear 1, kW (hp): 164 (220)
Net Power - Gear 2, kW (hp): 172 (230)
Net Power - Gear 3, kW (hp): 183 (245)
Net Power - Gear 4, kW (hp): 187 (250)
Net Power - Gear 5, kW (hp): 194 (260)
Net Power - Gear 6, kW (hp): 201 (270)
Net Power - Gear 7, kW (hp): 205 (275)
Net Power - Gear 8, kW (hp): 205 (275) - No 6WD
Transmission Manufacturer: John Deere
Number Of Speeds - Forward: 8
Number Of Speeds - Reverse: 8
Front Wheel Drive: Yes
Axle Oscillation, ± Degrees: 32
Front Wheel Lean, ± Degrees: 20
Service Brake Type: Multiple Wet Discs
Service Brake Actuation: Hydraulic
Overall Length, mm (ft/in): 8890 (29 ft 2 in)
Height Over ROPS, mm (ft/in): 3180 (10 ft 5 in)
Transport Width, mm (inches): 2490 (98)
Wheelbase, mm (ft/in): 6160 (20 ft 3 in)
Bladebase, mm (ft/in): 2570 (8 ft 5 in)
Moldboard Sideshift - Right, mm (inches): 683 (26.9)
Moldboard Sideshift - Left, mm (inches): 683 (26.9)
Shoulder Reach - Right, mm (ft/in): 2083 (6 ft 10 in)
Shoulder Reach - Left, mm (ft/in): 2083 (6 ft 10 in)
Circle Rotation, Degrees: 360
Turning Radius - Minimum, m (ft/in): 7.21 (23 ft 8 in)
Frame Articulation, ± Degrees: 22
Operating Weight, kg (lbs): 17530 (38648)
Weight With Push Block & Ripper, kg (lbs): 20500 (45195)
Operating Weight - Maximum, kg (lbs): 24948 (55000)
DRIVELINE
Engine Manufacturer : John Deere
Engine Model: PowerTech PSS 9.0L
Number Of Cylinders: 6
Displacement, ltr (Inches³): 9 (548)
Engine Output - Net, kW (hp): 205 (275)
Peak Engine Torque, Nm (lbf / ft): 1379 (1029)
Torque Rise, %: 50
Net Power - Gear 1, kW (hp): 164 (220)
Net Power - Gear 2, kW (hp): 172 (230)
Net Power - Gear 3, kW (hp): 183 (245)
Net Power - Gear 4, kW (hp): 187 (250)
Net Power - Gear 5, kW (hp): 194 (260)
Net Power - Gear 6, kW (hp): 201 (270)
Net Power - Gear 7, kW (hp): 205 (275)
Net Power - Gear 8, kW (hp): 205 (275) - No 6WD
Transmission Manufacturer: John Deere
Number Of Speeds - Forward: 8
Number Of Speeds - Reverse: 8
Front Wheel Drive: Yes
Axle Oscillation, ± Degrees: 32
Front Wheel Lean, ± Degrees: 20
Service Brake Type: Multiple Wet Discs
Service Brake Actuation: Hydraulic
DIMENSIONS
Overall Length, mm (ft/in): 8890 (29 ft 2 in)
Height Over ROPS, mm (ft/in): 3180 (10 ft 5 in)
Transport Width, mm (inches): 2490 (98)
Wheelbase, mm (ft/in): 6160 (20 ft 3 in)
Bladebase, mm (ft/in): 2570 (8 ft 5 in)
Moldboard Sideshift - Right, mm (inches): 683 (26.9)
Moldboard Sideshift - Left, mm (inches): 683 (26.9)
Shoulder Reach - Right, mm (ft/in): 2083 (6 ft 10 in)
Shoulder Reach - Left, mm (ft/in): 2083 (6 ft 10 in)
Circle Rotation, Degrees: 360
Turning Radius - Minimum, m (ft/in): 7.21 (23 ft 8 in)
Frame Articulation, ± Degrees: 22
WEIGHTS
Operating Weight, kg (lbs): 17530 (38648)
Weight With Push Block & Ripper, kg (lbs): 20500 (45195)
Operating Weight - Maximum, kg (lbs): 24948 (55000)